You have reached the website of
Harrington & Kauffman
---
A comedy theater duo from New York.
Coming soon:
Harrington & Kauffman in CABARET TERRARIUM, opening Tuesday, September 9 at the San Francisco Fringe Festival. SIX DAYS ONLY! (See schedule below).
"Richard Harrington and Chris Kauffman raise the level of comedy to a high art."
— The Globe and Mail, Toronto
"Harrington & Kauffman reinvent, or just blow up, whatever category they're meant to occupy."
— Edmonton Journal
"The actors could probably stand on stage brushing their hair for 20 minutes and make you laugh."
— Baltimore CityPaper
About Harrington & Kauffman
About their shows
Reviews
Press releases and pictures
Calendar
Contact us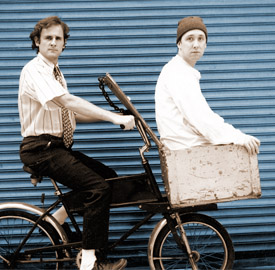 Gustave (left, Richard Harrington) and Nhar (right, Chris Kauffman). Did you know that Gustave and Nhar have their own facebook page?

Next show:
San Francisco Fringe Festival
September 2014

Exit Stage Left
156 Eddy St, SF
San Francisco
Tuesday    Sept  9  7:00pm
Wednesday  Sept 10  9:00pm
Thursday   Sept 11  7:00pm
Friday     Sept 12  7:00pm
Sunday     Sept 14  2:30pm
Tickets: sffringe.org/cabaret
Who are Harrington & Kauffman?
Richard Harrington & Chris Kauffman are a theatrical comedy duo from New York City who have toured around the world with the three shows they have created as their alter-egos Gustave and Nhar. Their first production was Motel California (formerly known as, variously, Hotel California and The Show Formerly Known As), their second show was Nharcolepsy, and the third is called Cabaret Terrarium. They have also toured the Canadian fringe with their solo shows, Saving the Desert Tortoise (Harrington) and Action Figure (Kauffman). Action Figure debuted at the Winnipeg Fringe in July of 2014.
You can learn more about their shows and about Harrington & Kauffman by clicking on the links which you will already have noticed in the middle of this sentence. Also see their reviews, many of which describe Harrington & Kauffman better than they can describe themselves.

Also, look, Gustave has discovered Twitter:
And for Gustave's archived Diary from the pre-Twitter stone age (Wordpress), go to: Gustave's Old Diary!