You have reached the website of
Harrington & Kauffman
A comedy theater duo from New York.
See them for one show only at the Kraine Theater in NYC in July 2023!
---
Cabaret Terrarium
a comedy about a Belgian cabaret singer with a shady past

The Kraine Theater at Frigid NYC
85 East 4th St
New York, NY

Sunday, July 23, 7:00pm

ONE SHOW ONLY!

Sliding scale, suggested $25 / $20 streaming
Advance ticket link coming soon!

---
See this clip from one of the first performances of Cabaret Terrarium back in 2009!
Also see this animated video, which is very tangentially related to the show:
Some stuff people have said about Harrington & Kauffman's live shows:
"Richard Harrington and Chris Kauffman raise the level of comedy to a high art."
— The Globe and Mail, Toronto
"Harrington & Kauffman reinvent, or just blow up, whatever category they're meant to occupy."
— Edmonton Journal
"The actors could probably stand on stage brushing their hair for 20 minutes and make you laugh."
— Baltimore CityPaper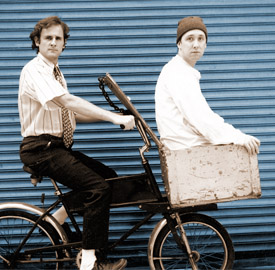 Gustave (left, Richard Harrington) and Nhar (right, Chris Kauffman).
About Harrington & Kauffman
About their shows
Reviews
Press releases and pictures
Calendar
Contact us



Also, did you know that Gustave and Nhar have their own facebook page?